DataMan 370 series
The most versatile barcode readers.
With twice the power of conventional readers in its class, the DataMan 370 delivers faster decode speeds for greater performance, even when applications have multiple codes and symbologies.
DataMan 370 uses High Dynamic Range (HDR) imaging technology to acquire single images that are 16 times more detailed than conventional sensors. It globally enhances image quality and contrast, resulting in greater depth-of-field and improved handling of low contrast codes.
Modularity provides unparalleled flexibility
The new high-powered integrated torch (HPIT) option provides unmatched illumination power, eliminating the need for external lighting.
Easy setup and use
It captures images in real time for user review and tracks read result history. The Setup Tool also provides process control metrics and performance feedback.
Aimed at a wide range of applications
▪ High-speed lines
▪Small or difficult-to-read codes
▪ Multi-code, multi-symbology applications
▪ Multi-sided scan tunnels
Symbologies of the DataMan 370 series
The DataMan 370 series is optimized with patented algorithms to ensure continuously high read rates of 1D and 2D symbologies, regardless of size, quality, printing method, or surface.
1D barcodes: UPC / EAN / JAN, Codabar, Code 39, Code 93, Code 128 Interleaved 2 of 5, MSI

2 codes : DataMatrix , QR , MaxiCode+

Stacked codes: PDF 417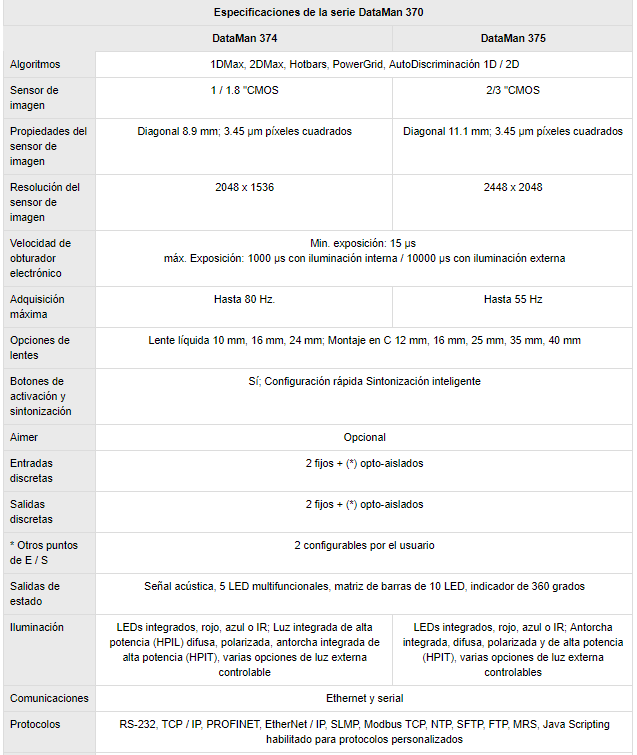 Documentation
Technical documentation